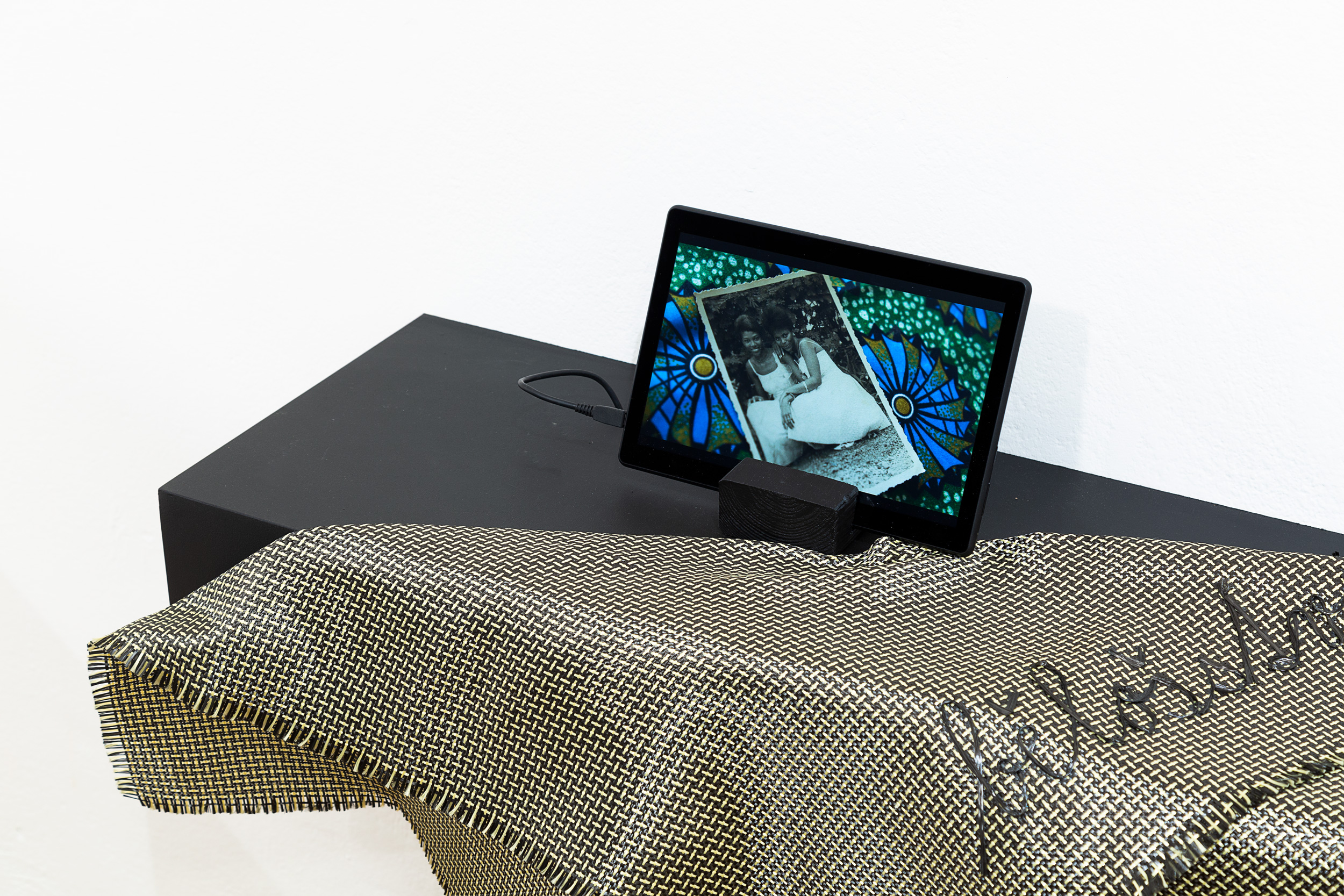 Towards a Black Testimony
Part 2: Terrain / Display Gallery Prague
25/2/2021 – 30/4/2021
Curated by: Languid Hands ( Imani Robinson & Rabz Lansiquot ), Hana Janečková, Zuzana Jakalová

Artyčok
Natalie Perkof & Yvonne Vácha Mané
Meetfactory 2020
Video: Eliška Horová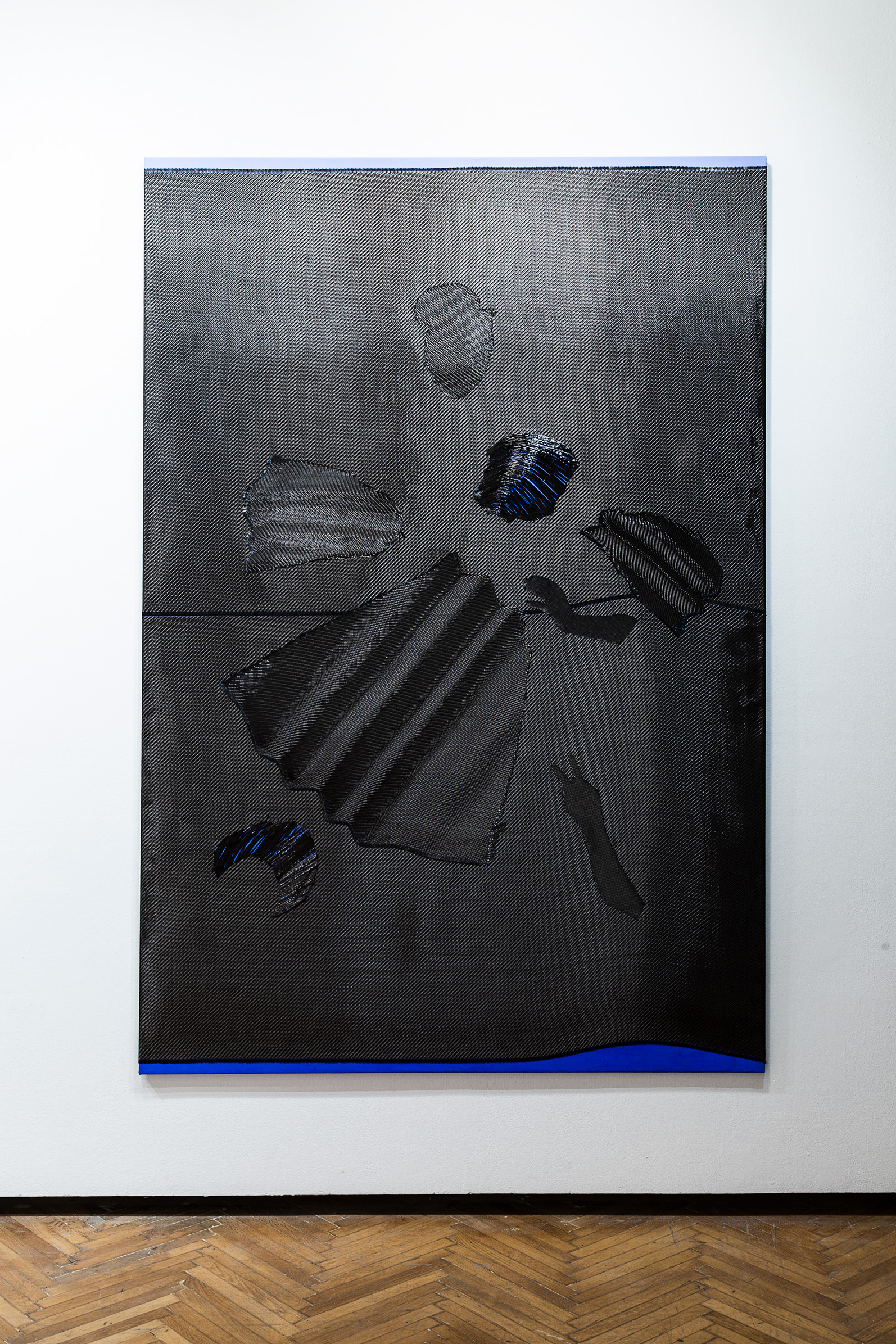 'Water is the first thing in my imagination. All beginning in water, all ending in water. Turqoise, aquamarine, deep green, deep blue, ink blue, navy, blue-black cerulean water… Water is the first thing in my memory.'

Map to the Door of No Return by Dionne Brand
Towards a Black Testimony is an ongoing project by the London-based artistic and curatorial duo Languid Hands. Using the film Towards A Black Testimony: Prayer/Protest/Peace as both artwork and curatorial note, the project brings together artists, thinkers, writers, listeners and speakers to respond to the ideas in the film and to explore the complexity of Black testimony through their own experience. The four part iteration at Display, Prague engages the practice of Black artists in the Czech Republic as a response to the film.
Curated by Hana Janečková and Zuzana Jakalová (Display) and Imani Robinson and Rabz Lansiquot (Languid Hands) it is presented across exhibitions, moving image, text, performance and public programming and includes works by Languid Hands, Natalie Perkof, Yvonne Mané Vácha and MELANINKIDS.
"Or put in another way, if we are made to say, I'm not going to waste my breath in a court of law. I'm going to testify to the Black mass."
(Towards a Black Testimony: Prayer/Protest/Peace)
Towards a Black Testimony: Prayer/Protest/Peace is a new work by Languid Hands that examines Black Testimony as obscured, ignored and undermined. Drawing on archival imagery, Black geographies, and the dying declarations of Black Martyrs, it explores the complexities of truth, empathy, justice, the law, life and death for the Black Mass. The work borrows its subtitle – Prayer, Protest, Peace — from the third track on jazz drummer and composer Max Roach's 1960 album 'We Insist! Freedom Now Suite' which features jazz vocalist Abbey Lincoln. Using this composition as the underlying structure for the film itself, Languid Hands present three chapters, or mediations, on death and dying and consider the im/possibility of Black Testimony. The script draws from a variety of well and lesser known black texts, weaving the audience through a performative speech written and delivered by Robinson, carefully annotated by Lansiquot's archival exploration and sound mixed by friend of Languid Hands, Felix Taylor. The film was commissioned by Jerwood Arts for the group exhibition 'Jerwood Collaborate!', curated by Harriet Cooper, Head of Visual Arts.
The exhibition project Towards A Black Testimony: Terrain, draws on Lola Olufemi's critical cartography, where mapping implies an ongoing conversation between the past and present, crossing geographical boundaries among Black Subjects. "Water is the first thing in my imagination", we hear in Languid Hands' installation Towards a Black Testimony: Prayer/Protest/Peace, recalling the writing of Canadian poet Dionne Brand, from her 2001 book, A Map to the Door of No Return. The motif of the sea keeps repeating throughout the show, in the personal photographic archive in Natalie Perkof's work and the African cosmologies of Yvonne Mané Vácha's, paintings where it stands both for departure and migration.
The show is underscored by the gravity of Black testimony: under white supremacy where black people are still viewed as a property, as commodity, as object; to testify is incommensurate with the position of speaking back to power. In the carceral state and its prison industrial complex, legal forums repeatedly fail to enact justice and respond appropriately to Black Testimony, to recognise Black subjects and to grant Black people the full extent of their humanity.
As Kathryn Yussoff argues, in the logic of extraction Blackness is not only symbolic but is, through slavery, used as a pure material energy. Black people
as sport stars and on magazine covers, Black people as the world's most underpaid labour, there are numerous extractive ways that continue the legacy of colonial domination. This notion of black materiality has a strong presence in Natalie Perkof's work, made in response to Languid Hands' film and with their mentorship. Working mostly with carbonamide, a fabric used in industrial aircraft, it articulates the ambivalent experience of alienation and diasporic belonging. Its shimmering texture and highly reflective surfaces conceal its usual use as a heavy industrial material. Meticulously made, Perkof's large scale self portraits and objects also hide carbonamide's mild toxicity with their seductive tactility, visibility and resemblance to luxury fabrics. Stretched on an azure blue background, a colour that refers to village house bricks in Perkof's birthplace in Slovácko, Moravia, the outlines of a figure emerge almost violently from the fabric, hands decisively in a provocative pose. This phallic posturing is still firmly held within the fabric, the tension contained in its flat, reflective surface. Suspended and semi-abstracted, loose parts of a folk costume, the hands and face of the second canvas reveal an affective charge of yearnings and libidinal tactility, recognisable yet always somehow disappearing.
In Yvonne Mané Vácha's highly prolific output during her MeetFactory residency, the colourful, flat application of paint to Senegalese motifs and cosmologies are distorted when the painterly language loses its decorative tone in favour of more disorderly and striking iconography. Working through multiple articulations of iconographic representation of her personal memory of Senegalese songs and rhythms, Vácha, who studied illustration at UMPRUM, Prague, and is also an actor and performer, has only recently returned to painting.


Hana Janečková
Natalie Perkof / Towards a Black Testimony


I decided to create two large-format paintings ( 250 x 170 cm ), video, book and objects.
They indirectly react to the film works Black Testimony. I perceive both works as an artistic achievement in the presentation of Black Life. The main theme is the historical detachment from the native roots, the feeling of strong bodily feelings of helplessness, anger, dishonesty and detachment. Separation of the vast breadth of the sea. Injustice to the judiciary and the legal system. Offer solutions to malice, aggression, rebellion and the status of equal rights. The curators also offer a poetic reflection on death, mourning, and burial. They cite the sentences of those dying in police arrest. The authors do not present wishes, desires or solutions to the Black situation, but rather try to evoke a strong emotional experience of the people involved.
For my statement, I decided to ask the question in which it is most familiar to me, in these geographical conditions, my different skin color. If I compare Black life, for example in America or London, it differs significantly from the local conditions of the Czech Republic. The fact that the Czechia is not a historically colonizing country does not have a large movement of different ethnic groups. If people come here, it is mainly voluntary. There is no strong historical roots of racism against people coming from Africa, but a kind of adopted model is manifested here. My personal life took place in my youth, especially in the village, which is strongly associated with folklore, folk traditions. From an early age, I was engaged in agriculture, field work. Part of life was also the experience of folk festivals, where traditional village costumes are worn. I inherited such a costume from my great-grandmother. Many times I created parts of the costume, which has relatively strict rules. Overall wearing a costume, the right harness has different rules for each village. What I always carried heavily was when I put on my costume and suddenly the question arose as to whether it was appropriate for me to wear the costume? And I decided to ask this question in my painting. When it was asked to ethnographers, it was rather answered that of course it was. It is appropriate for me to bring out the costume. However, the prevailing opinion among the general audience is that my skin color is inappropriate for the costume. So there is still
a question for me whether what is popular is determined by experts or, conversely, by people who tend to maintain traditions today. And if it is possible and how to open these traditions, add…? The picture shows me in the costume of my village.
The second image is also a self-portrait. When I was thinking about how equality can occur in a society, I came up with two parts that need to go through to successfully balance polarity. The first part is standing up for oneself, which includes rebellion, anger, aggression. The second part is an increase in self-worth – a change in the internal setting, which by radiating to the outside world changes the attitude of the outside world towards radiating persons. The picture shows a woman shaping a man's penis with her hand in her pants. I depict here an inner man (according to Jungian theory of the inner family), whose discovery, experience in a woman increases the ability to stand up for one's own experience, feelings and emotions. It is not a purely masculine energy that creates, fighting in the outside world, but rather an inner masculine energy that stands behind the inner processes.
In both paintings, I use myself as a helper, because here I present my personal view with respect to various different experiences of Black life. And because here I do not express an insight for a group of people, but purely for me an individual.
Formally, the paintings are made of black carbon fabric, which I have been using in my work for about 10 years and the meaning for me is the expression of my African part in me. At the same time, however, it has a strong luster and luminosity. The first image is therefore monochrome black with optical reflections. The second image is made of carbon-aramid fabric. Here, both elements create a black-gold fabric, which is even more optically variable. Installation requires more emphasis on image lighting. As I wrote above, I chose both materials for a strong visual reference to African patterns.
The concept of the joint project with Yvonne Vácha is based on a very personal experience and also the uniqueness of our meeting within the residence. Yvonne is a little closer to African culture, to the roots of our dark part. She grew up with her father, which I unfortunately did not succeed in, and unfortunately I did not have the opportunity to experience, experience or get to know my own African roots at all. During our joint conversations, she mentioned that she masters traditional African dances, which I found absolutely fascinating to be able to learn the rhythm that is so characteristic of this culture. I would like to make a recording, a short video of our teaching, which would be without film aspirations. A pure documentary about the experience and acquisition of the skills of dance, rhythm. Grabbing a piece of something that wasn't available, but should be a part of it. A small piece to the integrity of personal perception.